Kristi M. Annecone, FNP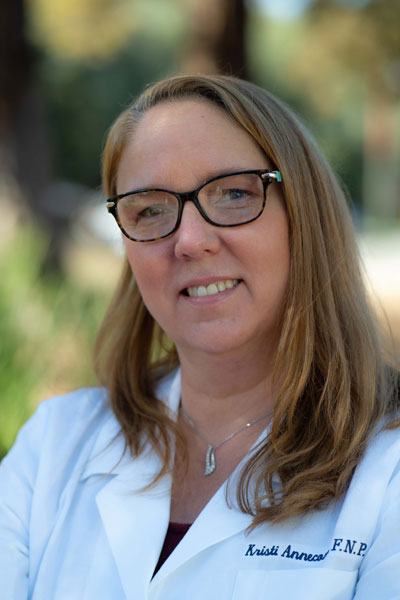 Kristi Annecone choose to become an RN because she wanted a selfless, professional career that was rewarding for both herself and her patients. She then realized she wanted to increase her autonomy, have more responsibility and provide primary and/or preventative care to patients. Kristi has been in Allergy and Asthma since 1993 where she found her love for taking care of patients suffering with these illnesses.
As a Family Nurse Practitioner Kristi is able to prescribe medication, diagnose illnesses, and suggest changes to the lifestyle of the whole patient to ensure that they can live their lives to the fullest.
Kristi really enjoys having patients feel loved, heard and cared about giving them the best quality of life possible. In order to keep herself grounded she enjoys hiking, traveling, surrounding herself with family and good food.
Education
Master's Degree: Master of Science in Nursing & Family Nurse Practitioner, San Jose State University, San Jose, California
Bachelor's Degree: Bachelor of Science in Nursing, San Jose State University, San Jose, California
Professional Organizations & Affiliations
Board of Registered Nursing: Registered Nurse, Nurse Practitioner and Nurse Practitioner Furnishing
American Academy of Allergy, Asthma and Immunology (AAAAI)
Certified Clinical Research Coordinator
AITA, GCP and CPR certified
Phi Beta Kappa Honor Society, 1993 & 2002
Honors
AOA Honor Medical Society
Vasculitis Foundation Society
Request Appointment
Use our secure online form to request an appointment with Kristi Annecone.