James D. Wolfe, MD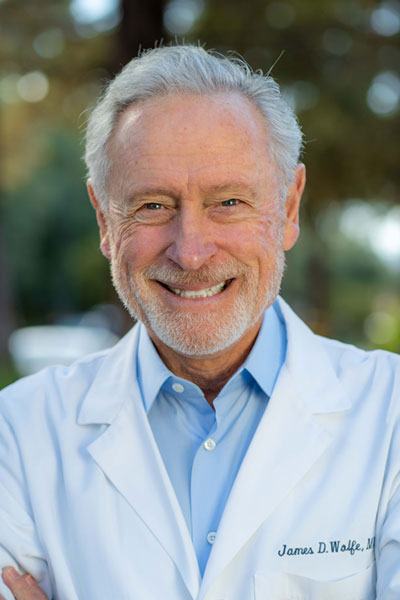 Dr. James Wolfe is the senior member of Allergy and Asthma Associates, where he has been dedicated to the care of patients with a variety of allergic disorders for more than 40 years. During this time, he has contributed regularly to the education of medical residents from Stanford Medical School and Santa Clara Valley Medical Center and has been involved in medical research, performing over 400 clinical studies that led to the approval of nearly all medications currently utilized to treat asthma and allergic disorders. Dr. Wolfe, along with several colleagues, created the pharmaceutical company AllerQuest that provides all allergists and hospitals with the FDA-approved penicillin skin test to evaluate the large number of patients with reported penicillin allergy.
Dr. Wolfe is very proud of his wife's work with a non-profit dedicated to rare childhood cancers, and for what his two adult children have accomplished to improve the well-being of those facing health and other life challenges. Dr. Wolfe is an avid swimmer, enjoys reading and hiking, traveling with his wife, and being involved in the care of his mother and mother-in-law who are both centenarians.
Board Certification
American Board of Allergy and Immunology
American Board of Pulmonary Diseases
Education
Fellowship in Allergy and Immunology: Johns Hopkins University
Fellowship in Pulmonary Diseases: UCLA
Residency in Medicine: UCLA
Medical School: UCSF School of Medicine
Professional Organizations & Affiliations
Clinical Professor of Medicine, Stanford University School of Medicine
Chairman of the Allergy and Immunology Division at Santa Clara Valley Medical Center for 27 years
President, Allergy and Asthma of SCV Research Center
President, AllerQuest Pharmaceutical
Faculty, Stanford-O'Connor Family Residency Program
Member, UCSF-Benioff Community Physicians
Honors
Phi Beta Kappa
AOA Honor Medical Society
Selected to Best Doctors in America, 1996 - present
Excellence in Teaching Award, Stanford-O'Connor Family Medicine Residency Program, 2007
Santa Clara County Medical Association Award for Outstanding Contribution in Medical Education, 2015
Special Recognition Award by the American College of Allergy, Asthma and Immunology for work related to penicillin allergy, 2019
Publications
Senior author on extensive publications addressing the use of new medications for the treatment of asthma and allergic disorders including in the New England Journal of Medicine, JAMA, Chest, Journal of Allergy and Clinical Immunology, and American Review of Respiratory and Critical Care Medicine.
Read Dr. Wolfe's latest article on "Am I Food Allergic?."
Request Appointment
Use our secure online form to request an appointment with Dr. Wolfe.