Kinga P. Olson, DNP, FNP-C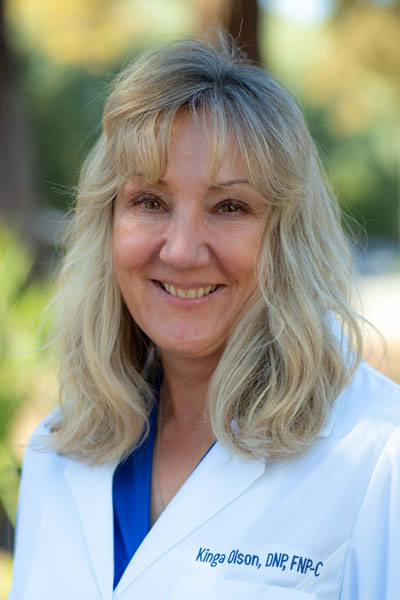 As a board-certified family nurse practitioner, Kinga has found numerous ways to combine her love of patient education, nutrition science, and preventative medicine within her practice. After raising two children in Colorado, she took her 20 years of ICU and emergency medicine experience and relocated to the Silicon Valley with her husband. She splits her time at Kaiser Hospital and Allergy & Asthma Associates since 2012. Her quest to combine higher education in nursing and nutrition presented the opportunity to incorporate a new food allergy program titled Oral Immunotherapy (OIT) for the patients at AAA with life-threatening food allergies as she completed her Doctorate in Nursing Practice.
Kinga's research project titled "Implementing Peanut Oral Immunotherapy in Private Practice", looked at numerous facets of the program including how to reduce anxiety for families undergoing OIT and is published in Nursing Education and Practice, (2020). This experience gave her the understanding of how to help her healthcare team implement, manage, and continue to expand the OIT program at AAA. Currently, she is learning about the power of functional medicine and continues her education combining nutrition and preventative medicine in order to help her patients optimize their health.
Global medical mission experiences in Nicaragua and Romania have fueled her passion to help those unable to access healthcare, and during the pandemic, she worked in local COVID-19 swabbing and vaccination clinics. Educating our future nurses has been a way for her to share her wisdom and knowledge as she taught nursing clinicals for University of Colorado and mentored nurse practitioner students in the Bay Area.
Kinga refuels herself by getting creative in the kitchen developing healthy recipes for her family, experiencing new cultures while traveling, and spending time in nature hiking or skiing, and most recently mushroom foraging.
Board Certification
American Association of Nurse Practitioners, FNP Board Certified
Education
Doctorate in Nursing Practice: Nursing Education & Leadership, California State University
Master's Degree: Master of Science in Nursing & Family Nurse Practitioner, University of Colorado
Bachelor of Science in Nursing: University of Colorado
Bachelor of Science: Food Science & Nutrition, Central Washington University
Integrative Nutrition Certification, University of California San Diego
Institute of Functional Medicine Coaching
Professional Organizations & Affiliations
Request Appointment
Use our secure online form to request an appointment with Kinga Olson.