Alan B. Goldsobel, MD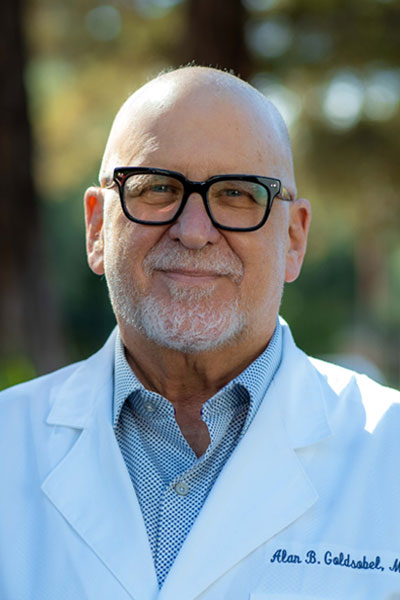 Dr. Alan Goldsobel wanted to be a physician from a very early age since doctors were the people he most looked up to. After medical school at University of Texas, he decided to specialize in Allergy/Immunology because he found the immune system to be fascinating and complex. He moved to Northern California from Texas after medical school to train at UCSF and UCLA and never wants to live anywhere else.
Dr. Goldsobel truly believes being a doctor is a privilege and does not take lightly the trust that patients place in him. He enjoys seeing both children and adults with respiratory and immune system problems and especially enjoys the challenge of patients with chronic cough.
Dr. Goldsobel is proud that he graduated college Phi Beta Kappa. He has been very involved in Allergy/Immunology organizations locally and across the country. He has served on many committees in the national organizations, AAAAI and ACAAI, and has lectured around the country. He is a Past President of the California Society of Allergy, Asthma, and Immunology. He has been awarded "Best Doctors in America" 2001-2021 and is a Clinical Professor at UCSF and Adjunct Clinical Professor at Stanford where he teaches in the Allergy Clinic.
He enjoys his free time with his wife and two adult children and friends, hiking in the hills, and playing golf.
Board Certification
American Board of Allergy and Immunology
Education
Fellowship: Combined Allergy/Immunology UCLA
Residency: University of California San Francisco
Medical School: University of Texas
Undergraduate: Universty of Texas at Austin, Graduated Phi Beta Kappa
Professional Organizations & Affiliations
Articles & Interviews
Read Dr. Goldsobel's latest article on the "Goals of Successful Asthma Treatment."
Read Dr. Goldsobel's latest interview with WebMD "Pet Allergies: Making it Work".
Request Appointment
Use our secure online form to request an appointment with Dr. Goldsobel.