Whitney Rassbach, MD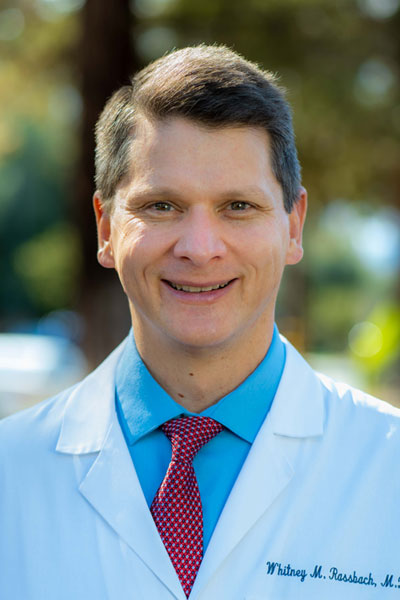 Why does the body regard certain foods, plants, animals, and/or drugs as threats, while considering others harmless? This question, and the ability to help patients of all ages, drew Dr. Whitney Rassbach into the study of allergy and immunology.
Since then, Dr. Rassbach has pursued food allergy and immunodeficiency research at the world-renowned program at Mount Sinai in New York, authored a food allergy chapter in a textbook, published in The Journal of Allergy and Clinical Immunology: In Practice, and given presentations at several national allergy/immunology conferences, all with the goal of answering that question for his patients.
Born and raised in Texas, Dr. Rassbach now considers California his home, and enjoys hiking, bicycling, economics, political theory, boogey-boarding, and the study of California's flora and fauna with his wife and children.
Board Certification
American Board of Allergy and Immunology
Education
Fellowship: Mount Sinai Adult and Pediatric Allergy and Immunology Program, New York
Residency: University of Michigan Combined Internal Medicine and Pediatrics Residency Program
Medical School: Columbia University College of Physicians and Surgeons
Undergraduate: Carleton College
Professional Organizations & Affiliations
Request Appointment
Use our secure online form to request an appointment with Dr. Rassbach.